Regency Chauffeur is London's renowned premier chauffeur driven limousine services based in the heart of the capital licensed by Transport for London (TfL). Regency has evolved in the past decade as a client favourite as we redefine luxury travel. Regency offers a discreet service that is elegant yet exquisite to its exceptional clientele for transportation services.
The vision started in the early Millennium, with focus on quality, efficiency and class, in order to deliver a premium service with exceptional standards to our wide spectrum of clientele, which in turn led to the birth of Regency. These clientele range from Royal Families, FTSE 500 companies, Celebrities, High-Net-Worth individuals, 5 Star hotels and distinguished members of the public.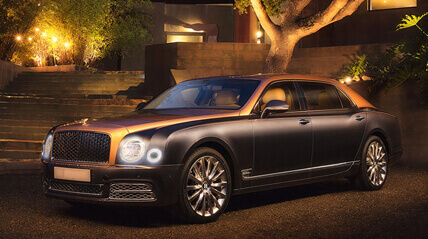 With our vision & strategic thinking, we have successfully built such a portfolio through our honest ethos of treating every client & every booking with the same level of consistency & high priority across the board. You can be assured that when you book with Regency, you will receive an exquisite Star treatment from beginning to completion. "A smile on the face of a customer speaks a thousand words"- This is a Mantra we hold close to our heart as we aim to build new boundaries'.
Our extensive fleet of 25 vehicles (and growing), but on the contrary with a reach of over 100 Mercedes S Class and 100 Mercedes V Class, we are never short of vehicles. Our vehicles are always presented in the highest standard with crystal clear paintwork, immaculate interiors and a soothing fragrance inside. Moreover our vehicles are never older than 3 years, therefore you can be sure you are in the most prestigious fleet of vehicles.
Our Mercedes and BMW saloons are always the latest models. We use the most innovative IT interface between the office and our staff to ensure complete and accurate transfer of booking details to our chauffeur. During airport pick-ups, we monitor flights relentlessly to ensure that whether your flight is early or late, you can rely on Regency to be at the airport with your name-board "on time, every time". We use road traffic monitoring applications which also allow our chauffeur to avoid traffic hot-spots and re-route to save our clients valuable time.